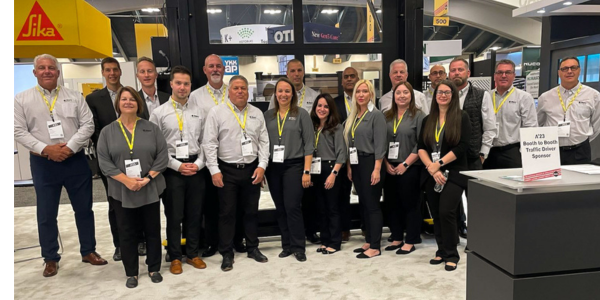 We wanted to fill you in on the exciting highlights from this year's A'23 Conference on Architecture! A'23 was a fantastic event held at the Moscone Center in San Francisco, California, from June 7-10. At the event, we showcased our newest advancements in overhead door design, giving architects and designers the opportunity to see firsthand the latest and most innovative products in our industry.
Highlighting Garage Door Innovation


Visitors to Clopay booth (#641) got to check out not just one, but seven incredible door solutions! These doors are all about combining reliability and durability with a sleek, contemporary design. Some of our featured products included our VertiStack™ Clear Stacking Door, the Extreme™ Series Sectional Door, and CrossingGard® with ThreatProtect™ Grille. Our Clopay team chatted with attendees about this year's exciting garage door technology and design advancements.
Showcasing Industry-leading Door Products
1. Extreme Sectional Door featuring LiftMaster® Operator: This high-performance door system, developed with a LiftMaster operator, boasts remarkable speed and reliability.
2. VertiStack Clear Stacking Door: This show stopper wowed visitors with its contemporary design and compact stacking panels that seamlessly recess into small ceiling headroom spaces.
3. CrossingGard with ThreatProtect Grille: This grille was highlighted as a customizable, alarm-activated safety solution for schools, healthcare facilities, and commercial/industrial applications.
4. Canyon Ridge® Chevron Garage Door, Slate Finish: These gorgeous composite garage doors, with their low-maintenance and durable qualities, offer an exceptional alternative to real wood.
5. Modern Steel™ Ultra-Grain Plank Garage Door, Coastal Gray Finish: This fresh design showcases digitally printed horizontal planks that mimic the look of real wood on insulated flush panel steel.
6. Rustic Fiberglass Entry Door in Slate Finish with 4-grille Simulated Divided Lites, in Clear Glass: Smooth or grooved panel designs to achieve authentic transitional and farmhouse looks with the feel of solid wood, with the long-lasting durability, energy efficiency, and moisture-resistant advantages of fiberglass.
7. Navy Blue smooth Fiberglass Entry with Door, with grille Simulated Divided Lites in Frosted Glass: Contemporary panel detailing and a fine brush-etched surface texture define this standout door.
Interactive Experiences and Prizes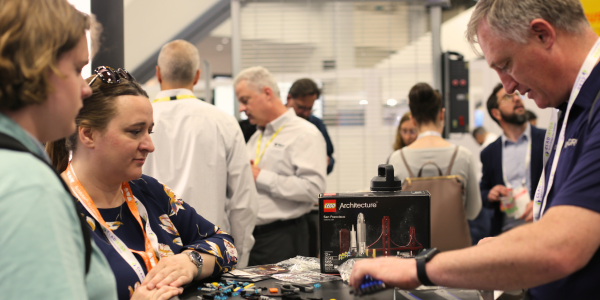 Not only did we showcase our super innovative products, but we also ensured that visitors had a blast with fun and interactive experiences.
For the 'Guess the Number of Doors' contest, one lucky winner, Andy Hall from Hall and Bartley Architecture and Planning, nailed it with a guess of 600 doors and scored a pair of AirPods Max. Clopay also hosted the sold-out Legos Bricks N' Lagers event, where participants got to flex their building skills. Drawn at random, the winner was announced as Michael Poris from McIntosh Poris Associates. He'll now get to collaborate with the incredibly talented professional LEGO artist, Benjamin Radell, to create a custom LEGO replica.

Our team truly enjoyed going the extra mile to make the whole experience super engaging and fun. Visitors got to enjoy interactive activities, along with the chance to win some spectacular prizes. A'23 was a blast and we can't wait to see you at A'24 in Washington, DC!