Creating the door of your clients' dreams can be a challenging process. We know you want to make a beautiful garage door that is unique and fitting for your client's home and lifestyle, but the garage door track height can affect some design aspects.
The finish, features and style of the door can determine which track best suits your project. Of course, the size of the space you're working with, the ceiling height or other obstruction and the roof shape can also determine which tracks you need to implement in your design.
Thankfully, there are multiple track options to choose from, and each can aid in your design if you choose the right one. Our guide will discuss your options and how to account for the headroom necessary to achieve your plan. We'll also detail some common design elements that work well with some tracks over others.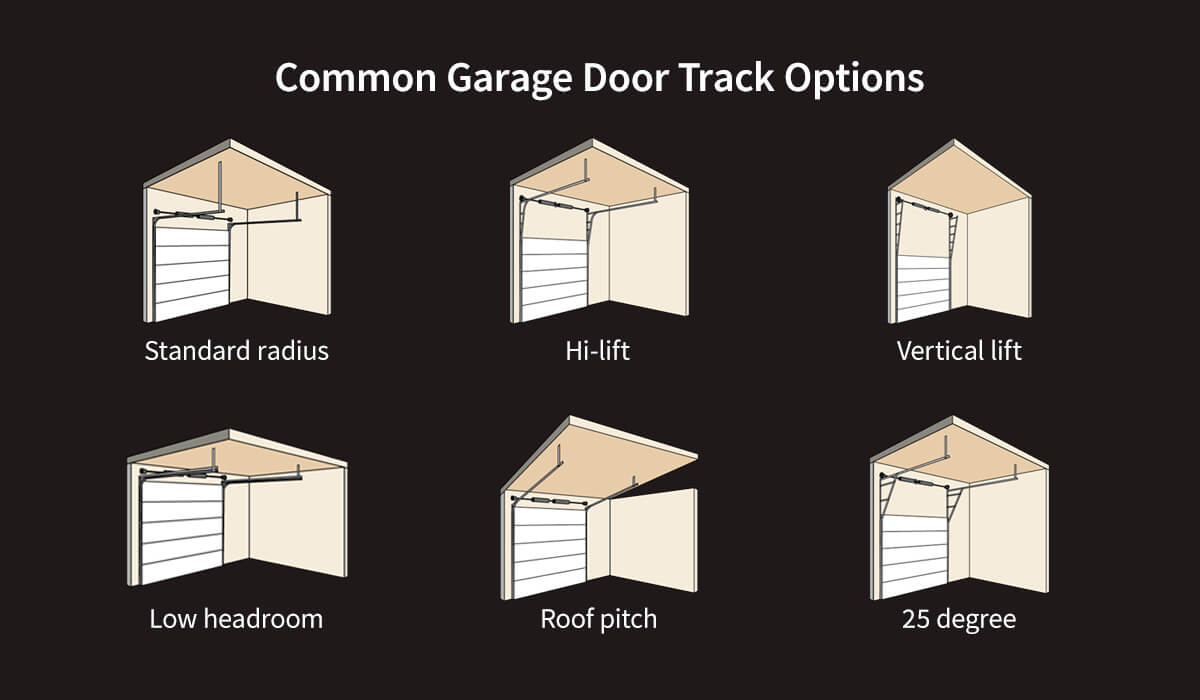 Common Garage Door Track Options
To find the right track for your door, you need to evaluate the headroom, side room and height of the top portion of your door. The shape of the roof could also affect the track you choose. If the door is placed in a garage with a slanted roof or a particularly tall ceiling, utilizing certain tracks will be more space-efficient than others.
Typically, overhead door track options are measured by the low headroom of the door or the radius or size of the curved track. There are six common track options, and one of them is usually only seen in industrial garages.
Standard garage door track options include:
Standard radius: The standard radius is the most common choice for tracks, with the most popular radius being 15 inches. This means that the track curve requires at least 15 inches of headroom to fit all the necessary equipment. There are other options, but the larger the radius, the more headroom you need.
Low headroom: Also known as Dual-Track, the low headroom track is the second most popular option. These tracks are well-known for having a second horizontal track attached to the curve used to move the top portion of the door only. You can find low headroom tracks with front or rear mount springs.
Hi-lift: You can use this track in garages where the ceiling is taller than the average home. It has more vertical track and less horizontal but utilizes a standard radius curve. Because there is less horizontal track, more of the garage door stays upright when you open it.
Roof pitch: These tracks follow the incline of the roof. They're similar to hi-lift tracks and maximize ceiling space.
Vertical lift: You can usually find vertical lift tracks in commercial garages. They don't have horizontal tracks, and you have to account for some additional overhead door track clearance. When you open it, the door remains vertical and only moves out enough to leave room for the opener.
25 degree: If you want to incorporate windows or handles into the door's design, you can use a 25-degree track to avoid interfering with the door's opening. It is similar to a vertical track, but the door moves further away from the wall to account for the window or handle space.
How you style a door and what additional features you choose will affect which tracks you should use. Our Architect Portal is a great place to bring your unique visions to life. You can always contact our architectural design support at any stage in your process for additional help. We have information about commercial and residential doors and a rolling door drawing generator to assist you in finding the best fit for each of your clients.
Measuring Garage Door Headroom
The garage door track size will determine headroom requirements. Headroom is the space above the door when it's completely open. This space needs to be large enough for all of the door's supporting components. It has to account for the extension and torsion springs, opener, motor and connections, as well as the curve in the tracks that connect the vertical tracks to the horizontal ones.
You can take a tape measure to determine the total amount of space above the door. You only need to measure from the top of the frame to the ceiling. If the ceiling is tall, use a ladder or laser tape measure for more accurate measurements.
Another option for a garage with a high ceiling is to measure from the floor to the nearest door obstruction. You can subtract the door height from this number to find the headroom.
Here are the headroom requirements for each track type:
Standard radius: On a 2-inch track, you need 12 inches of headroom for a 12-inch radius and 14 ¼ inches of headroom for a 15-inch radius. On a 3-inch track, you need 16 ½ inches of headroom.
Low headroom front mount spring: A 2-inch track requires 9 inches of headroom and a 3-inch track requires 4 ½ inches of headroom.
Low headroom rear mount spring: You need 4 ½ inches of headroom on a 2-inch track and 8 ½ inches on a 3-inch track.
Hi-lift: Add 9 ½ inches to the high lift for a 2-inch track or 11 inches to a 3-inch track.
Roof pitch: A 2-inch track needs 14 ¼ inches of headroom, and a 3-inch track needs 16 ½ inches of headroom.
Vertical lift: You have to account for the door height for a vertical lift. Both 2-inch and 3-inch tracks require an additional 12 inches of headroom.
25 degree: These tracks require you to account for your high lift and an additional 9 ½ inches.
It's essential to follow the recommendations for each track option. Having less than recommended will require a different installation process for the spring and track configurations. We can always assist you in finding the right product so that you don't have to sacrifice your designs.
Types of Garage Door Headroom Obstructions
A headroom obstruction is the closest object above the garage door. In residential homes, the nearest obstruction will usually be the ceiling, but in commercial garages, obstructions can be a variety of objects and equipment.
Headroom obstructions include:
Sprinklers
Shelving
Drop ceiling
Steel beams
Electrical conduit
Light fixtures
Sound systems
Air ducts
Piping
Storage units
Sometimes, there may be more than one obstruction. In this case, you should measure to the closest obstruction as the overhead door may not be able to bypass this space unless you remove the obstacle. If you find that the door can run over the obstruction, you must take great care to ensure smooth operation that won't damage the door or the object it's bypassing. You can refer to our residential specifications or commercial specifications to find the exact materials, sizes, finishes and more to aid you in your projects.


Contact The Architect Design Support Team
With over 100 years of experience in the door industry, you won't find anyone more invested in your business than us. We strive to be limitless, and we want to integrate safe designs into the creative visions you're passionate about.
Our product reps and support team are prepared to handle any questions or concerns you might have about our products or your projects. We'll work with you at any stage in the design process and for you as long as you need to see your project to completion. Even if it's not on our site, we can discuss making a custom order for you.
Check out our Architect Design Portal or call us today at 833-707-0082 to learn more about what we can do to help you create the garage door of your clients' dreams.