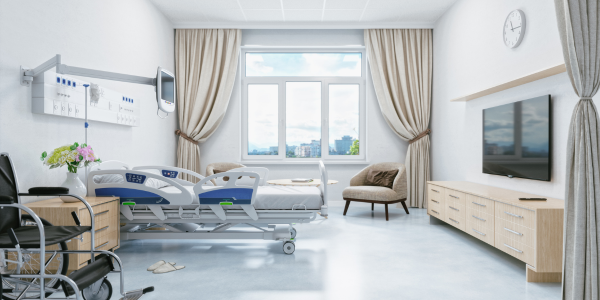 Healthcare facilities see a variety of patients. Each case is different, so designs need to be flexible and adapt to changing needs. Incorporating anti-ligature products and features into these spaces accommodates patients needing both acute care and who are experiencing mental and behavioral health emergencies.


In this blog, we'll review common areas of concern for ligature risks in behavioral health clinics, crisis intervention facilities, and detention centers.
Defining Ligature vs. Ligature Point
A ligature is anything that ties or binds. This could be cords, tubes, linens, or clothing in a healthcare facility. A ligature point is anything that could be used to secure or attach a ligature, like a shower rail, coat hooks, water pipes, or curtain rails.
Ligature-resistant products are designed without sharp edges or potential catch points. You'll find doors with smooth surfaces, rounded hardware, and low profiles for openings.
Assessing Ligature Risks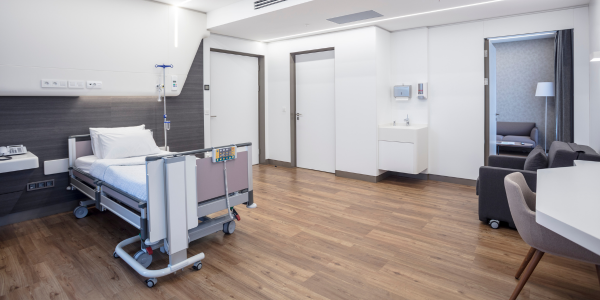 The Joint Commission and Centers for Medicare and The Centers for Medicare & Medicaid Services (CMS) created standards to help facility operators and surveyors identify and report ligature risks. The organization requires the following areas, — inpatient psychiatric units, emergency departments, and acute inpatient settings — to be ligature-resistant:
Patient Rooms
Patient Bathrooms
Corridors
Common patient areas
Risks of ligature points should be assessed in the following areas:
Doors between patient rooms and hallways.
Areas with an unobstructed view from a team station and areas behind self-closing and locking doors.
Cross-corridor doors and exposed closer arms.
Drop ceilings in hallways and common patient care spaces.
Behavioral Health Crisis Units
The Facility Guidelines Institute (FGI) emphasizes the need to create behavioral health crisis units (BHCU) within existing facilities. Having this space available has a number of benefits:
Provides additional space for inpatient care
Helps doctors get to patients sooner
Saves money by avoiding expensive inpatient admissions
These units are typically built in or near hospital emergency departments (ED), but can also be in stand-alone crisis centers, on a hospital campus, or within communities. Mental and behavioral health patients admitted into EDs often become agitated or frightened by the environment, intensifying symptoms. BHCU offers patients a calm and therapeutic space where they can move freely without restraints.
Behavioral health crisis units (BHCU) can have a substantial upfront cost but will save emergency departments money over time.
Designing Standard Rooms for Behavioral Health Care
Healthcare institutions might not be able to meet the budget to build a BHCU. To save upfront costs, designers can use Exam Room Counter Doors to enable facilities to use the same room for medical and behavioral patients back to back.
Since items typically found in patient exam areas have ligature points, this approach allows the staff to simply close off the cabinet, revealing a completely flat surface facing the patient's room. Best of all, anti-ligature products are engineered to be tamper and impact-resistant.
Adapting a flexible approach to healthcare design not only saves the provider money and resources — but also affords optimal security for patients.
Paving the Way in Healthcare Design
Facilities professionals, architects, specifiers, and designers are playing an increasingly large role in the future of healthcare design. Because many requirements are new and evolving, building new or redesigning healthcare facilities can be challenging because many requirements are new and evolving. Amidst these changes in the field, there are a wealth of opportunities to transform healthcare spaces into healing environments that treat mental and behavioral health.