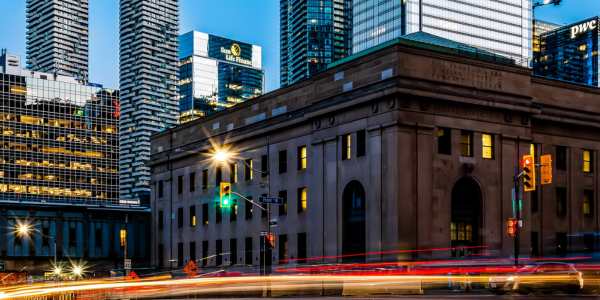 While a lot of businesses opt for new construction, a growing number of developers are choosing to renovate old historical buildings. Along with architects and designers, building owners are transforming these long-vacant structures into hip cafes, busy restaurants, trendy retail shops, and mixed-use spaces. Breathing new life into underutilized or inefficient buildings is all part of adaptive reuse.
This architectural movement is considerably more cost-effective, sustainable, and efficient compared to new construction, so it's no surprise that developers and building owners are latching on.
Adaptive reuse opens the door to endless opportunities that underscore important issues like sustainability, the preservation of culture, and the revitalization of communities. Along with all of these benefits comes a new set of design challenges that can impact project budgets and timelines. Architects are embracing these challenges and leveraging their ingenuity and creativity.
In this blog, we'll talk about the obstacles you might face on an adaptive reuse project and how to solve them.
Challenges and Solutions for Adaptive Reuse
1. New Building Codes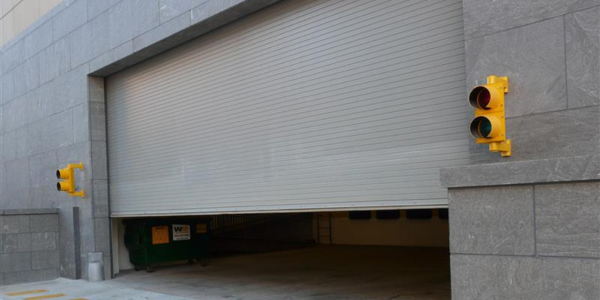 When you're remodeling an old historic building, there's a good possibility that it doesn't meet modern-day requirements for energy, accessibility, safety, and general building standards. Getting a building up to code can get muddy, especially when it's a certified historic structure. Federal programs like preservation tax incentives have requirements that safeguard historic features like windows, roofs, and exterior openings.
Garage doors can be a defining feature of buildings like fire stations and warehouses. Choosing the wrong commercial door can detach from the entire historic character of the space. Generally, federal programs prefer restoring the old doors, that is, unless its use changes.
New doors will need to maintain your building's character and match the size of the original opening. Today's commercial garage doors are customizable and can be easily easily retrofitted for different-size openings. Modern commercial doors also come with enhanced safety features and cutting-edge insulation technology to help meet your design's overall efficiency goals.

If you're looking for up-to-date building codes, you can find them here.


2. Design Flexibility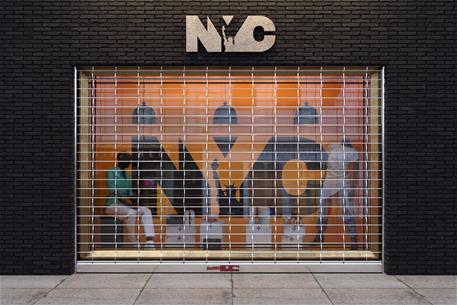 With new construction, there's the freedom to design from scratch. With an existing building, there's an opportunity to get more creative. You'll have to strike a balance between preserving original features, meeting new code requirements, and meeting your client's needs for the space.
Storefronts are the focal point of many historic commercial buildings. Because renovations are so complex, these projects can be pretty daunting. Removing decorative elements or changing design features can have a huge impact on the building's character. You need to be meticulous by including decorative and functional features during planning. Identifying what to restore, what to replace, and what to protect will help retain the building's original charm.
A common design challenge that storefronts face is how to protect exterior windows and doors from damage and theft without altering openings. Security grilles are the go-to for both new builds and historical renovations. This specific grille is a solution for buildings where the façade is untouchable and where you can't retrofit a standard grille. It's made with a smaller coil, which means you don't have to modify the opening.

3. Hazardous Materials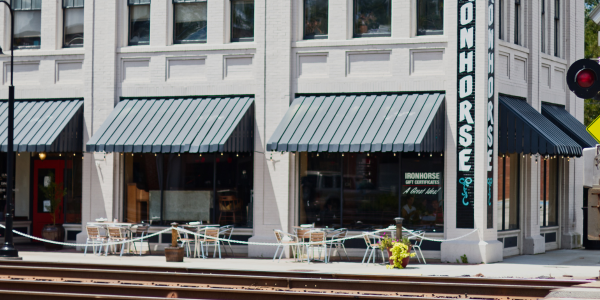 When tackling an older structure, you could face hazardous building materials like asbestos, lead, mold, and PCBs. These materials pose a risk to the environment and the health of anyone entering the building. Before you start construction, call in a hazmat abatement service to get an inspection and safely remove the contaminated materials. Include these services in your early discussions and plans since they can impact your budget and timeline.

4. Planning for the Unexpected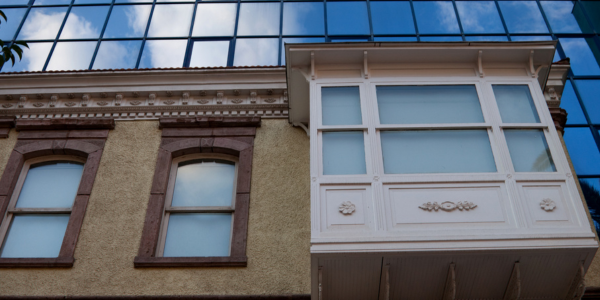 Overall, the cost savings between new construction and a historic adaptive reuse project are significant. According to a recent study, adaptive reuse projects cost 16% less than new builds and reduce construction timelines by 18%. These projects can also take advantage of tax benefits and additional financing. Each adaptive reuse project is going to come across something unexpected during construction. You can mitigate risk by planning ahead and working potential cost impacts into your budget. Some traditional impacts include labor, custom materials, and structural changes.

Recent industry studies suggest that new construction is declining. Over the next 10 years, a whopping 90% of real estate development will be adaptive reuse projects. Adaptive reuse is growing fast and the benefits outweigh the challenges. Architects have a unique opportunity to work together on innovative solutions to redefine a building's purpose while maintaining its cultural significance.

Need a little extra support with outfitting openings with commercial garage doors on your adaptive reuse project? Reach out to our Architectural Design Support Team!