When designing a commercial or residential building for a client, remember to include an aesthetically pleasing, energy-efficient garage door. Maybe you're constructing a commercial property that needs theft protection or a residential building that needs a boost in curb appeal. Think about what different types of garage doors could meet your client's needs.
As you create a custom design, you're in control of how your client's garage door looks and works. Our team at CornellCookson has plenty of resources to help you select the right product for your project. Use this guide to discover why you need a garage door as part of your design and what options are available for you.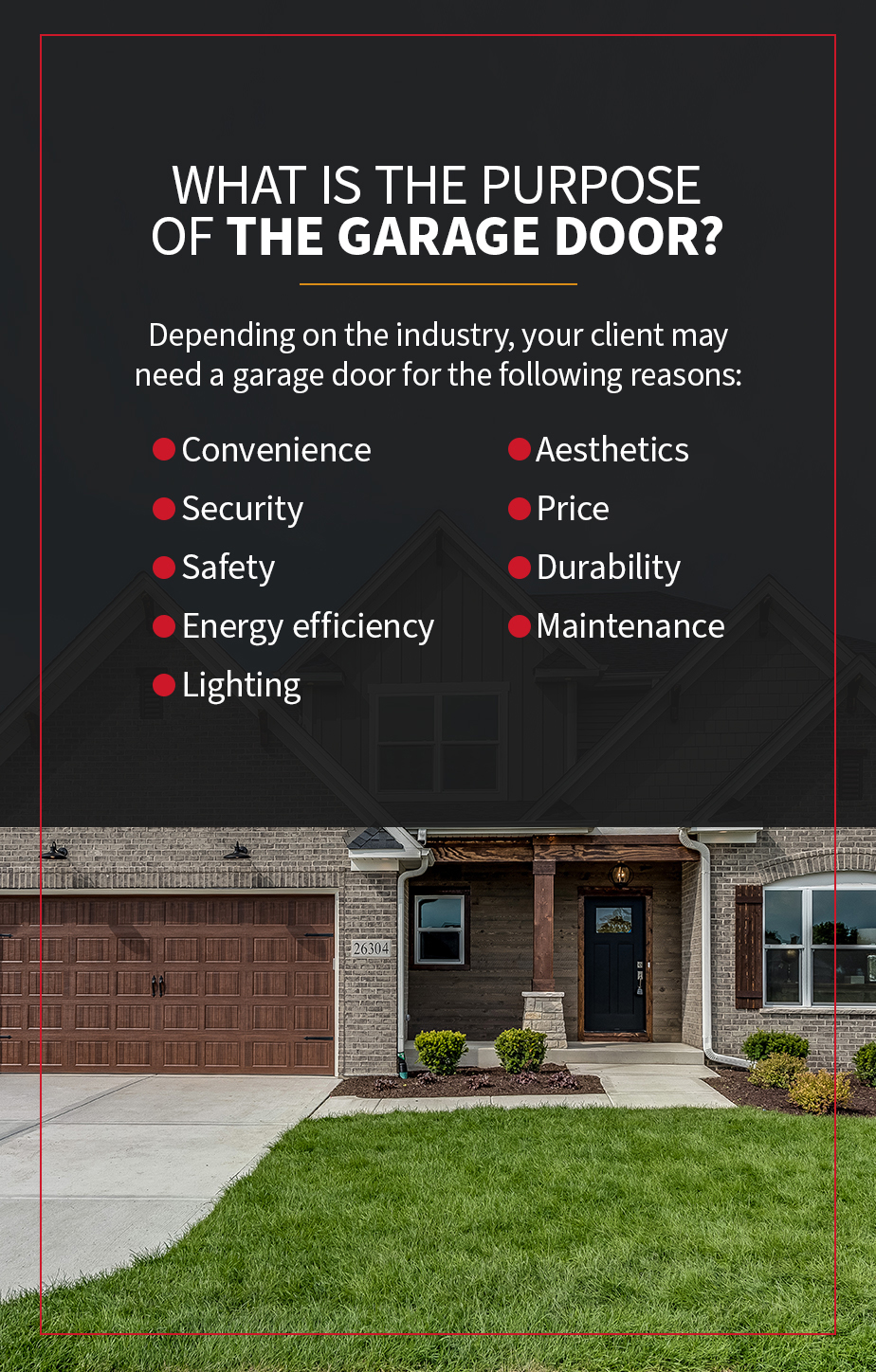 What Is the Purpose of the Garage Door?
Knowing what the garage door will be used for can guide the factors you should consider for its design. Depending on the industry, your client may need a garage door for the following reasons:
Convenience: A garage door should make it easy to park a vehicle or access supplies. Consider a lightweight material that's simple to operate. Some products also connect to mobile devices to open and close from anywhere with a Wi-Fi connection.
Security: The garage door you design should keep your client's expensive products safe from theft. Some garage door openers come with rolling-code technology that changes the access code every time someone uses the remote. Heavy-duty garage doors are also more likely to keep out intruders.
Safety: Your clients want to protect their employees, customers, and inventory from fire and accidents. Our fire-rated garage doors and safety features, such as an auto-reversal system, will be helpful for these purposes.
Energy efficiency: Regulating the garage's temperature can help keep sensitive supplies safe and lower your client's energy bills. Add insulation to your commercial and residential garage doors, or find an energy-efficient material to use in conjunction with your door.
Lighting: You may want to add one- or two-way vision windows to your garage door to bring natural light inside if your client wants enhanced visibility. On the other hand, if they need more privacy, you can design a garage door without vision windows.
Aesthetics: A visually appealing door will attract potential business and welcome guests. You'll want a good-looking door to boost curb appeal and resale value.
Price: Your client probably gave you a budget of what they're willing to spend. Consider what color, material, and size options are available for you within that price point. It's also helpful to think about the garage door's return on investment (ROI).
Durability: Think about your client's local weather conditions to determine how long the garage door will last. Some materials are resistant to rust, while others are better suited for dry environments.
Maintenance: Your client may want to prioritize having a low-maintenance garage door to save time and money over its life span. On the other hand, if they'd prefer a visually appealing product, they may have to spend more time on maintenance as compared to other low-maintenance options, depending on product selection.
Selecting a Commercial Garage Door
After considering what factors are necessary to your client, you can use these subtopics to choose and design the type of commercial garage door you need for your project.
Commercial Garage Door Styles
Many different types of garage door models are available today. Commercial garage doors come in the following styles:
Commercial Garage Door Materials
Commercial garage doors come in various materials that can suit local weather conditions and boost curb appeal, including:
Steel: Steel commercial garage doors are typically durable, economical and low-maintenance. You can customize a galvanized or stainless steel garage door with any color, and you can easily paint it over again if you ever want to update it. This material can even take on the appearance of wood. You can also add insulation to enhance its energy efficiency.

Aluminum: Aluminum commercial garage doors are lightweight and cost-effective. They tend to resist rust better than steel ones, and they can also mimic natural wood. This material is ideal for humid environments because it can withstand moisture.
Wood: Most people choose a wood door because of its aesthetic appeal and ROI. You can paint or stain it any color, but it also looks beautiful on its own. Wood is also an excellent natural insulator, keeping a commercial property cool in the summer and warm in the winter. Keep in mind that wood is typically heavy and vulnerable to rot from insects and moisture. Your client would need to maintain it often.
Fiberglass: Fiberglass commercial garage doors can resemble natural wood, but they tend to have more durability and cost less money. This material resists rotting and corrosion, lasting much longer than wood. You can install a fiberglass commercial garage door in humid areas.
Vinyl: Vinyl commercial garage doors are lightweight, easy to install, and cost-effective. They can withstand many weather conditions.


Commercial Garage Door Windows
Windows come in various options to provide natural lighting in your client's commercial garage. As you design the door, consider the following factors for your windows:
Shape: Garage door windows come in various shapes and sizes. They're typically rectangular, but you could also choose an oval shape to vary the look.
Size: Determine how much natural light your client wants in their commercial garage to know what size to make the windows. You can make the windows smaller if your client would prefer to show off the unique color of the garage door panels.
Number of Panels or Windows: Aluminum-frame garage doors offer full-view glass panels that take up the whole door. You could also include several windows in the door to bring in more natural light.
Glass type: You could either have tinted, clear, or frosted glass for your garage door windows. Think about whether your client will need privacy in their garage, or if they want to bring in as much natural light as possible.
Insulation: Besides the door panel insulation, you can order windows that come with thick glass for extra insulation. Insulated windows can enhance your client's energy efficiency, saving them money on their energy bills and promoting a healthier environment.
Commercial Garage Door Colors
The color you pick for your commercial garage door should complement the rest of the client's property. We offer four types of finishes that each come in a unique selection of colors:
Commercial Garage Door Panel Styles
The garage door panel style affects the door's aesthetic appeal. We offer two panel styles for commercial overhead doors:
Flush: A flushed garage door is a straightforward design with solid color throughout the surface. You can use a flush-panel garage door to complement the surrounding walls.
Ribbed: A ribbed garage door features panels with groove patterns that go along the whole design. You can use a ribbed-panel garage door to add some texture to the commercial building's exterior.
Selecting a Residential Garage Door
Your client might need an overhead garage door for their home. Explore some of the options available for residential garage doors.
Residential Garage Door Styles
At Clopay®, we offer the following garage doors for your client's home:


Residential Garage Door Colors
We offer the following color options for your client's residential garage door:
ColorBlast: Clopay's ColorBlast® program allows clients to choose from an array of paint color options for most of our steel, overlay and aluminum garage doors.
Ultra-Grain: UltraGrain® finish is a durable natural-looking woodgrain paint finish designed specifically for steel and aluminum doors. It eliminates the need for the ongoing maintenance wood doors require and is both UV-resistant and impervious to moisture.
Mix and match: You can make the base and composite wood overlay of the carriage house garage door different colors.
Residential Garage Door Windows
Design your residential garage door windows with the following factors in mind:
Shape: You could either get arched, rectangular, or oval windows for your client's home.
Grilles: Add vertical or horizontal grilles to the window to give it a dimensional, decorative look.
Glass type: Depending on the level of privacy or natural light your client wants in the garage, you could choose from clear, frosted, tinted, or rain glass.
Location: The garage door's window can either go on the top, middle, or bottom of the door.
Residential Garage Door Panels
Check the design brochure for each garage door style to discover which of these options are available for your client's home:
Flush panel: Flush panels offer a simple, solid color to complement the walls surrounding the garage door.
Raised panel: Raised panels feature a rectangular pattern on the garage door's surface to give it a dimensional look.
Recessed panel: Recessed garage door panels have rectangular pieces on the garage door's surface that sink in instead of pop out.
Beadboard panel: This garage door style features short rectangles and line patterns. You'll typically find this look on carriage house doors.
Ribbed panel: This pattern features grooves that go along the whole door's length.
Long panel: Long garage door panels either have a beadboard, raised, or recessed design, with long rectangles on each piece.
Short panel: Short garage door panels can also have beadboard, raised, or recessed patterns, with short rectangles on each part of the door.


Check Out the Clopay and CornellCookson Architect Portal to Find Your Commercial or Residential Garage Door
When you're selecting and designing your next garage door, our Architect Portal has the resources and team of experts you need every step of the way. If you'd like to build a custom garage door, use our drawing generator to create a product that matches your client's exact specifications. Our object library has specific information about each of the products we offer. Contact us online or call 833-707-0082 to start designing the ideal commercial or residential garage door for your client today.